Leveraging the Royal Baby News in Real Time and Over Time
August 28, 2013 // By: Hunter PR // No Comments
Traditional Media
It's no surprise that U.S. media were on high alert the weeks leading up to and following the July 22 birth of George Alexander Louis, the future king of England. Just about every major American print, broadcast and online news outlet had correspondents across the pond capturing minute-by-minute updates, released through digital and traditional content. At the same time, some marketers prepared for a shift in brand communication strategies to leverage the event.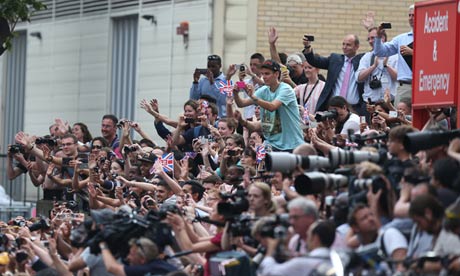 The attention on the Royal Baby is a perfect combination for many marketers: positive news of the birth of a healthy baby mixed with an iconic Royal family that media from The New York Times to the "Today Show" to US Weekly have always cared about. By latching onto happy news, brands do not have to worry about looking insensitive in reaction to more serious stories (e.g. American Apparel's "Sandy Sale"). During a summer when U.S. airwaves have been occupied by plenty of grim stories, scandals and trials, upbeat news that is certain to make headlines across the globe afford brands the opportunity to build buzz and awareness by joining the conversation—so long as the connection is tasteful and authentic.
For baby-focused brands like Pampers and Johnson & Johnson, it was a no-brainer to latch on to the story by weaving in creative "Royal Baby" messaging and artwork to marketing campaigns and pushing out through social media. Merchandise such as children's books, toys and even a small Houston bakery's "Cake Middleton" received national exposure through creative and clever tactics to leverage the news.
While real-time, one-off marketing can be an effective tool to gain a piece of the 'Royal Baby' spotlight and increase word-of-mouth in the moment (just like Oreo's Super Bowl Tweet or Adidas UK's #hitthewinner game during Wimbledon), it's not the only way brands and communications professionals can capitalize on newsworthy events. Consider the below Royal Baby story angles PR pros can leverage in pitches for weeks and months to come:
What to Feed Your Baby – Food and nutrition marketers, as well as parenting experts, should keep a keen eye on opportunities to join and even spearhead conversations about what to feed your baby, when it's okay to introduce new foods, how to safely prepare meals for your baby, etc.
How to Give Your Baby Royal Style on a Budget – There will be no shortage of Royal Baby photos in the gossip columns, on TV and shared across social platforms. Without question, Baby George will always be dressed to impress in the public eye – so how can clothing brands help average parents achieve that "royal look" for their little one, but for less?
How to Bounce Back from Giving Birth – Workout and fitness brands should pay attention. Journalists and producers will undoubtedly be looking for stories on workout regimens that will help Kate Middleton lose her baby weight as well as experts, such as personal trainers and nutritionists available to comment on the subject.
Tips for New Moms on Staying Healthy – Media interest in celebrity moms is no new phenomenon, but Kate and her Royal Baby are a big reason why print, television and online media will be receptive to story ideas and tips for new moms on how to eat right, get enough rest and cope with the stresses associated with being a first-time mom.